Therapeutic Shadow
Service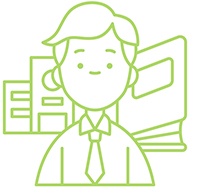 MIND takes great pride in offering a distinctive shadow teacher service that goes above and beyond to provide personalized support to individual students. Our approach is founded on a close collaboration between our highly experienced and qualified shadow teachers and our specialist therapy team, resulting in a seamless support system that truly sets us apart. When a student joins our program, they are assigned a licensed therapist who serves as their case manager, responsible for overseeing the support provided at school. This individualized approach ensures that the student's unique needs are addressed comprehensively, equipping them to succeed in the classroom.
Our dedicated shadows play a pivotal role in this process. In addition to supporting the student in the classroom, they also actively collect and share data with the case manager on a daily basis. This data-driven approach facilitates the continuous evolution and adaptation of strategies according to the student's evolving needs, making sure that the support remains finely tuned to their requirements.
We understand the importance of transparency and open communication in this journey. That's why we provide weekly reports to parents, serving as an additional means of keeping them informed about their child's progress and the strategies being implemented. Through our unique service, we establish a strong and collaborative connection between home, school, and the student. It's a holistic approach that brings all parties involved into the loop and ensures that every student receives the comprehensive support they deserve.