Tatweer Program

(Ages 14-17)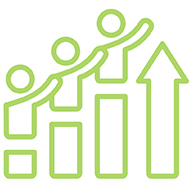 Empowering Personal Development for Teens
The teenage years are a time of self-discovery, growth, and empowerment. In Tatweer, our personal development program for teens, we recognize that this crucial phase in a teen's life is all about finding their unique identity and building a strong foundation for their future. Our program not only understands the significance of this journey but also brings proven results in guiding teens along this path. We believe that it's never too late to start this transformative process, and MIND is here to offer the necessary support and resources.
Tatweer's personalized approach is designed to empower teens aged 14-17 with the tools they need to navigate this formative period. By providing assessments and creating Individualized Education Plans (IEPs), we ensure that each student receives highly targeted support to make meaningful progress. Our 1:1 academic sessions in Language Arts, Math, Science, and Social Studies foster comprehensive learning, instilling both knowledge and the confidence to excel.
Beyond academics, our program is committed to holistic development. We place a strong emphasis on offering social skills training, emotional well-being support, and self-advocacy techniques. These skills are crucial not just for academic success but for a well-rounded and fulfilling life.
The program's future planning components empower teens with strategic preparation, goal setting, and exploration of personal interests, laying the foundation for a purposeful future. And our outings and trips provide hands-on opportunities for community integration, as well as the practical application of social skills in real-world settings.
Tatweer Program Structure:
With Tatweer, teens are encouraged to embrace self-discovery and growth during these critical years, and we are proud to be a part of their journey. Our track record of proven results underscores our commitment to helping teens realize their full potential and become confident, empowered individuals ready to face the world.